The Wulfenite
Franz Xaver Freiherr von Wulfen
Franz Xaver von Wulfen was born in Belgrade, Serbia. His father, Christian Friedrich von Wulfen, was a high-ranking lieutenant in the Austrian Army.  His mother, née Mariassy, was a Hungarian countess. Wulfen's early education took place at the Jesuit Gymnasium in Košice, Slovakia. In 1745, at the age of 17, he joined the Order of the Society of Jesus (Jesuit order) in Vienna. After the usual two noviciate years, he first completed his knowledge of Latin and Greek and then made philosophical studies, which he supplemented by further studies with great interest in mathematics and in the natural sciences.
In 1753 he became a teacher for the lower studies (grammar) in Gorizia, Italy, and in 1754 an educator at the Imperial Academy Theresianum in Vienna. In 1755 he began his theological studies in Graz. Later he taught mathematics and philosophy in Ljubljana, Slovenia. In 1763 he was ordained a priest and came to Klagenfurt, Carinthia. He held various positions there: teacher of physics, mathematics, logic and metaphysics, until his retirement in 1768 and became a pastor for the Ursuline Order.  Wulfen died on 16 March 1805 in Klagenfurt from pneumonia.
Hand-coloured wulfenite illustrations
by Joseph Melling (1724-1764)
Originally, the mineralogist and metallurgist Ignaz von Born (1742 – 1791) named the mineral wulfenite in 1772 as "plumbum spatosum flavo pellucidum, ex Annaberg, Austria". In 1781, the botanist Nikolaus Joseph von Jacquin (1727-1817) called the same mineral "
Minera plumbi spatosa Carinthica".
The mineral was renamed in "
Kärnthnerischer Bleyspath"
in 1781 and 1785 by Franz Xaver Wulfen himself and in 1845 described as "
wulfenite"
by the mineralogist Wilhelm Karl von Haidinger (1795 – 1871) in honour of Franz Xavier von Wulfen's monograph on the lead ores of Bleiberg, Carinthia, Austria.
Wulfen himself built comprehensive reference collections of natural objects, which he found around Klagenfurt in Austria, including probably a modest collection of minerals, whose whereabouts are unknown. His observations were published in a series of well-illustrated works. One of his first books on minerals, the "
Abhandlung vom kärnthnerischen Bleyspathe",
was published in 1785. The overall 46 wulfenite and lead mineral paintings from the Bleiberg district depicted (including the 4 reprinted here), are finest hand-coloured mineral illustrations by Joseph Melling (1724-1764).
(Pictures: NHM Vienna, Alice Schumacher)
Wulfenia Carinthica
The image depicts the type specimen of
Wulfenia carinthiaca Jacq
., collected for the first time by Wulfen in 1779 for whom it was named by Joseph Franz Edler von Jacquin (1766–1839). It is one out of 4 species of a small genus distributed in the South-Eastern Alps and mountain areas of the Balkans and Anatolia. This plant belongs to the plantain family. It is endemic to the Gartnerkofel Mountain of the Carnic Alps at the Austro-Italian border.
From his 22 year on, Wulfen devoted himself to botany. To find new specimens, he frequently hiked up the highest mountain of Austria, the Großglockner, and was a pioneer in exploring the Austrian Alps.
Wulfen's floristic studies, which appeared in print, were characterized by good observation and accurate descriptions. The personal Herbarium of Wulfen is kept at the Botanical Department of the NHM Vienna. It comprises about 8.500 botanical specimens mainly of European origin, especially from the areas of Gorizia, Carinthia (Austria), north-western Italy and Slovenia.
(Photo: NHM Vienna, Heimo Rainer)
Tucson Gem & Mineral Show, Arizona
The mineral wulfenite, which has the chemical formula PbMoO
4
, was the main subject in the year 2019 at the Tucson Gem & Mineral Show in Arizona: "Wulfenite Special Exhibition at the TGMS, February 14 - 17, 2019". Dr Vera M. F. Hammer from the Natural History Museum Vienna had designed a special showcase for the Austrian mineral wulfenite. (Photo: NHM Vienna, Vera Hammer)
NHM Vienna
In the Natural History Museum Vienna, wulfenites from the world's most known and famous occurrences are displayed in hall 3 (showcases 70 to 72).
References
Hammer, V. M. F.
(2019):
The Austrian Mineral Wulfenite - Special Exhibition at the TGMS 2019. The Mineral Observer, Mineralogical Almanac, 24/2, 90-91.
Klemun, M.
(1989):
Franz Xaver Freiherr von Wulfen – Jesuit und Naturforscher. Carinthia II, 179./99., 5-17.
Neumeier, G.
(2019):
Who's Who in Mineral Names: Franz Xaver Freiherr von Wulfen (1728–1805). Rocks & Minerals, 94/1, 88-91.
Niedermayr, G.
(1989):
Der Wulfenit – ein Kärntner Mineral? Carinthia II, 179./99., 29-45.
Prasnik, H.
(2016):
Die Wulfenit-Vorkommen Kärntens. Eine Zusammenstellung aus Anlass eines ungewöhnlichen Jubiläums. Carinthia II, 206./126., 141-156.
Schroll, E.
(1985): Franz Xaver Freiherr von Wulfen – 200 Jahre Wulfenit. Mitt. Österr. Mineral. Ges., 131, 121-127.
Schroll, E.
(2003):
Die Geschichte vom Wulfenit. Ber. Geol. B.-A., 64, 69-70.
Link:
https://www.mineraldesjahres.at/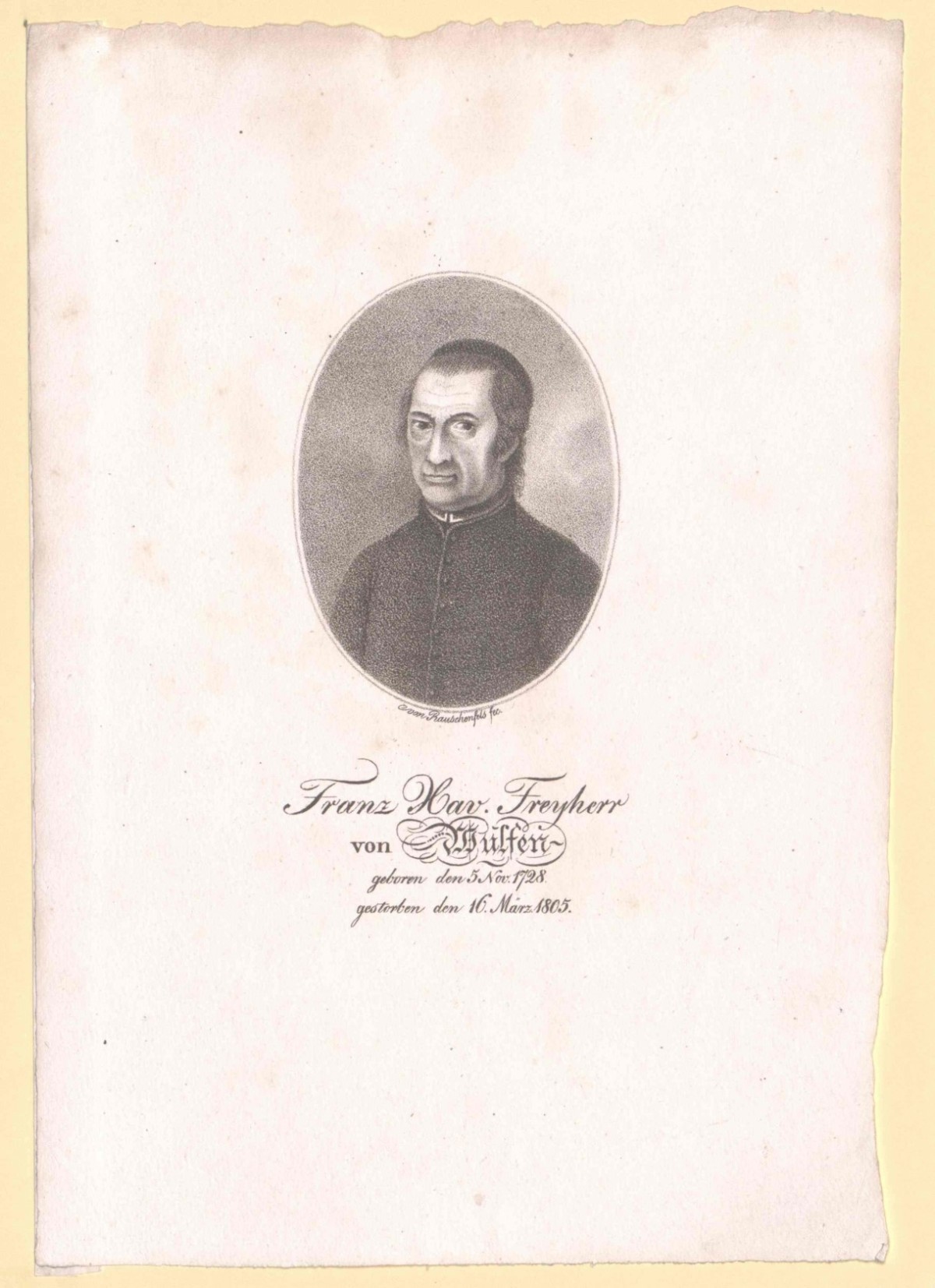 Portrait of Franz Xaver Freiherr von Wulfen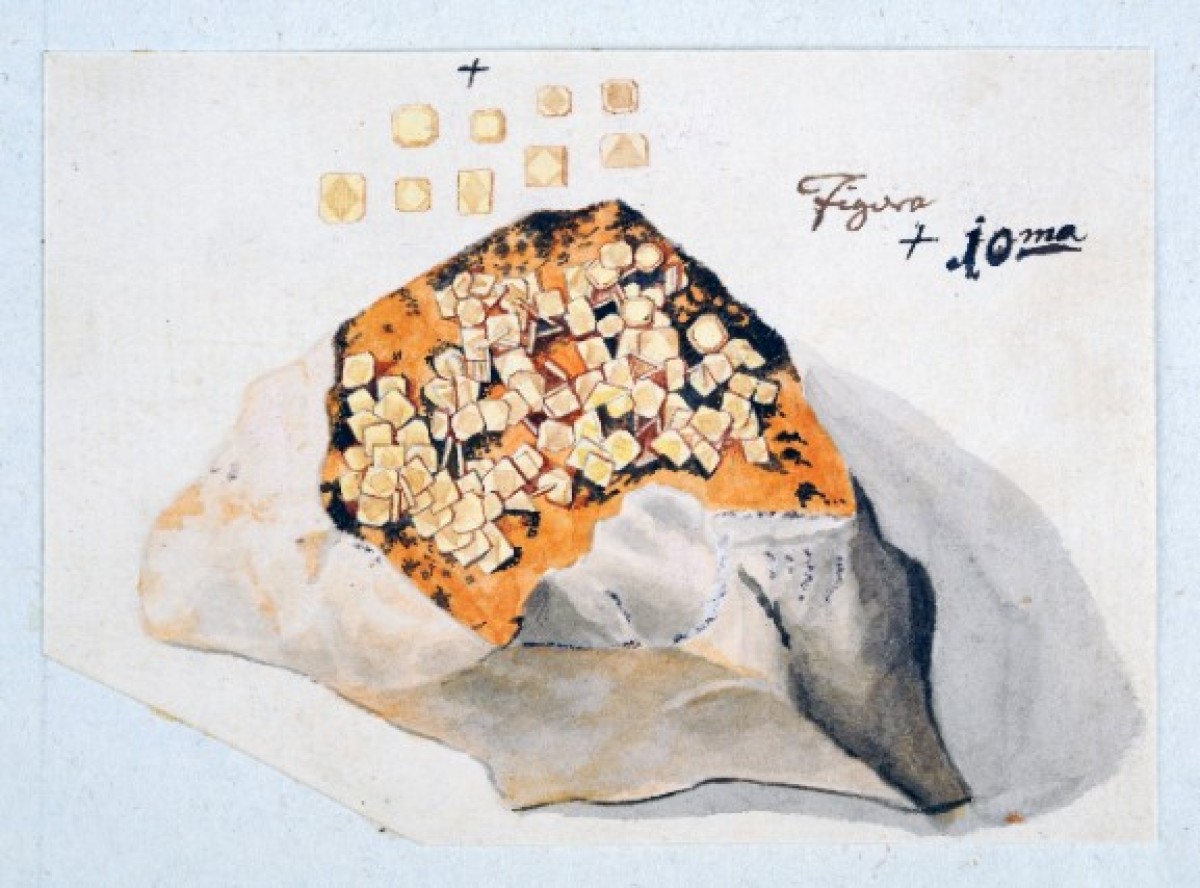 Coloration by Joseph von Melling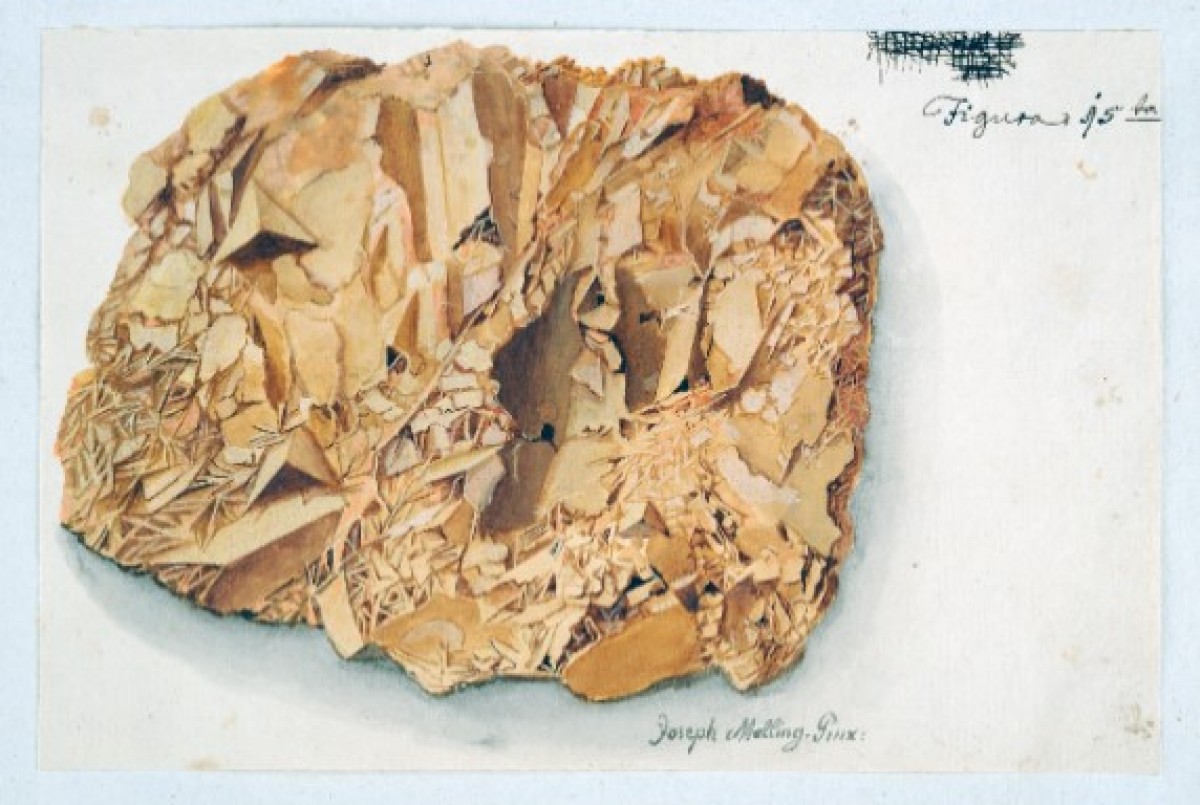 Coloration by Joseph von Melling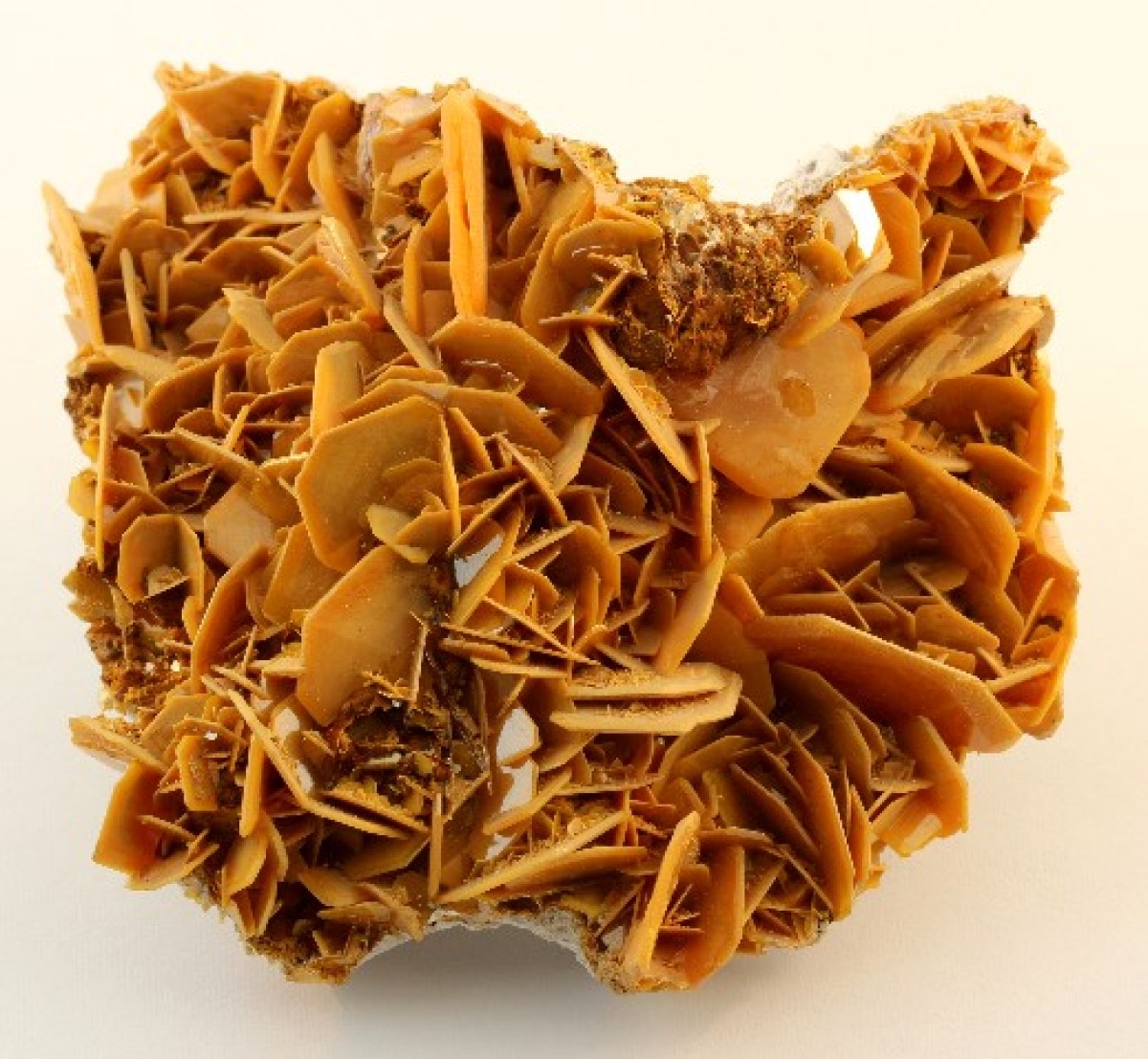 Wulfenite from Bleiberg, Austria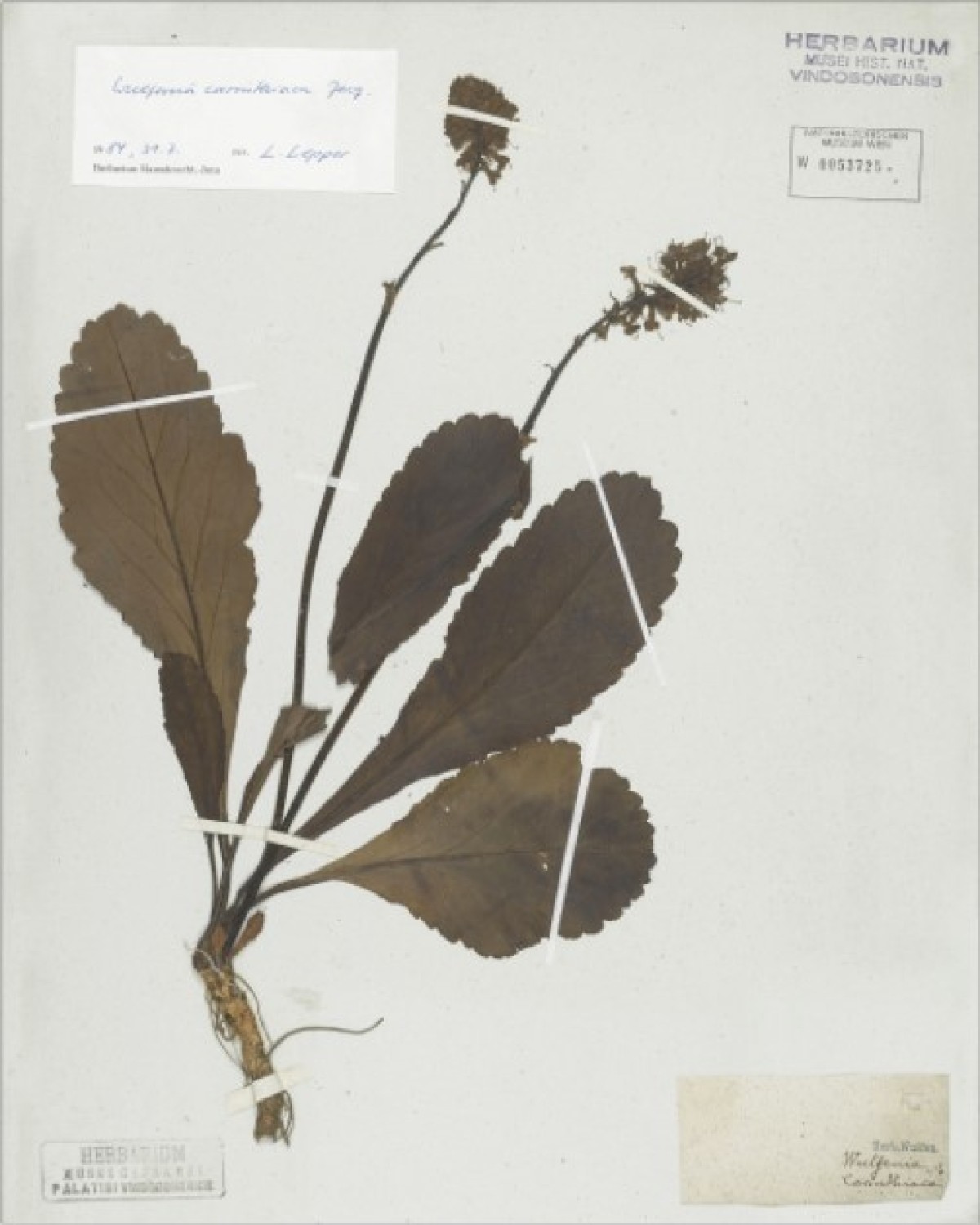 Wulfenia carinthiaca Jacq.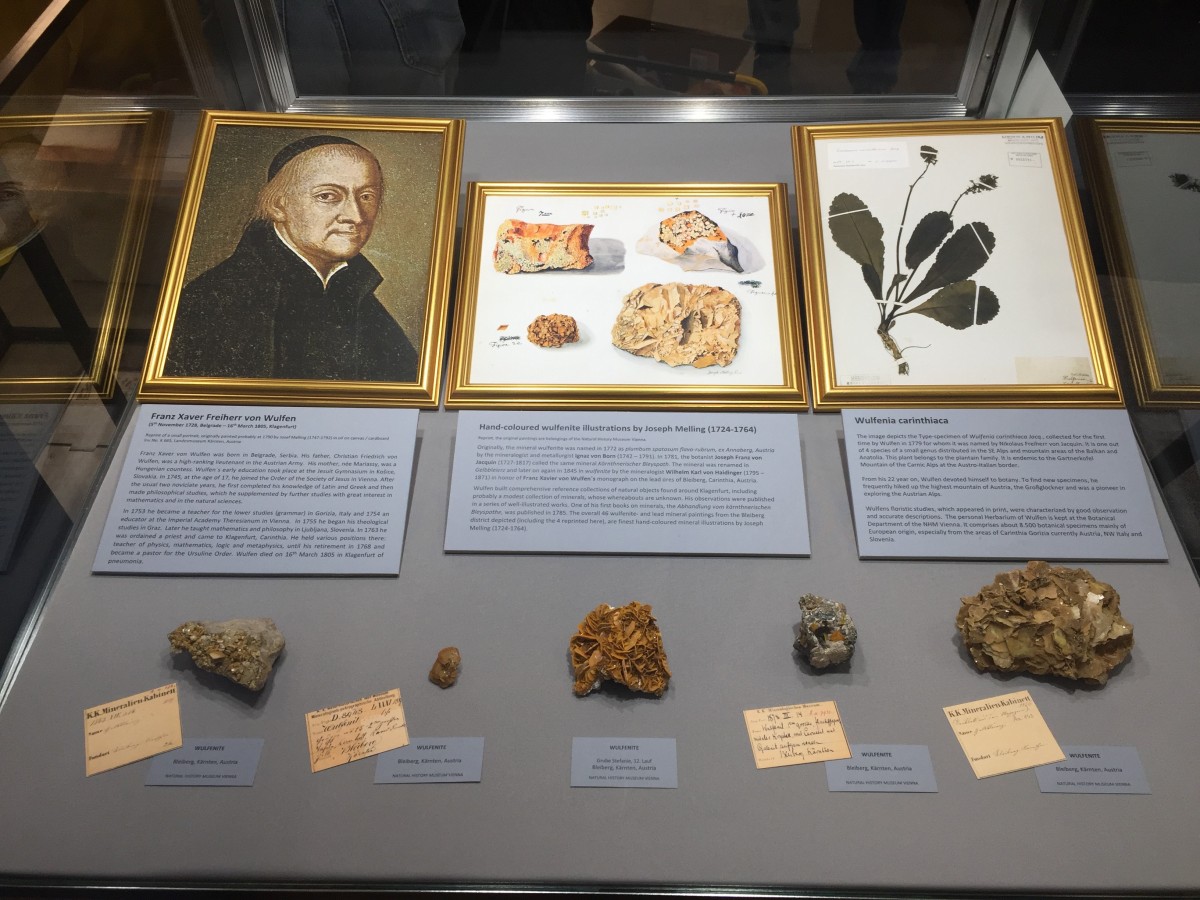 Showcase at Tucson Gem & Mineral Show, 2019