Mag.
Christoph Hörweg
Head of the 3. Zoological Department / curator of the collection Arachnoidea / staff scientist
the leadership of the 3. Zoology (Invertebrates) comprises
the coordination of all administrative procedures
supervision
definition of the department's policy concerning collection, science and exhibition
additionally the collection Arachnoidea is curated by the head of department:
scientific management of the collection Arachnoidea
IT-supported acquisition of the collection
scientific support of guests of the collection and the library
cooperation and consultation for exhibitions
public relations in arachnids (requests etc.)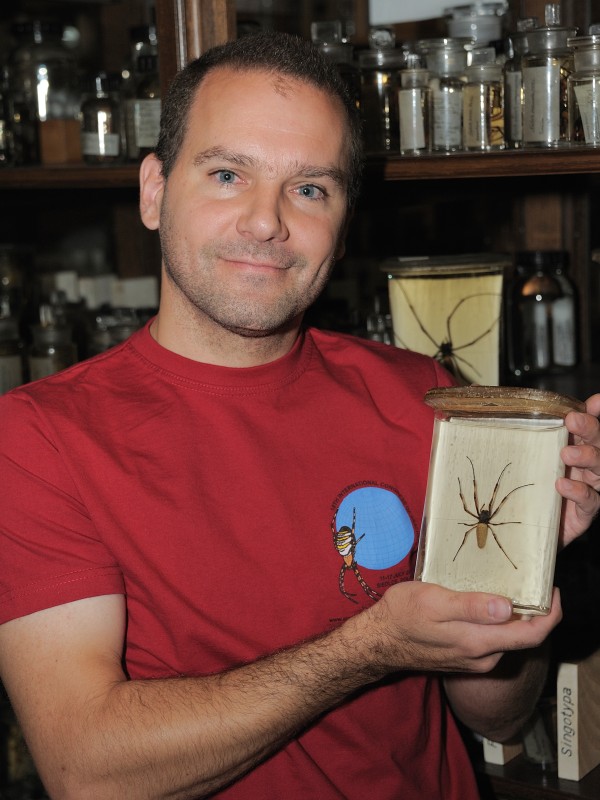 12.03.1971 - born in Vienna

1989 - School leaving examination (Matura) am BG XI Gottschalkgasse

1989 - 1995 Study of Biology, University of Vienna

1995 - 2005 Study of Zoology (MSc), University of Vienna

03.05.1999 - 31.12.1999 - Military Service NBC-Defence Unit in Korneuburg (Lower Austria)

08/2004 - 04/2006 - Research Assistant within the project "Investigation to examine the prevalence of Fascioloides magna within Galba truncatula in the Nationalpark Donau-Auen", Natural History Museum Vienna
03/2005 - Approval of the master thesis "Endohelminths of the common shrew Sorex araneus L., from the environment of Vienna"

28.04.2005 - MSc in zoology (main focus parasitology)

05/2006 - 02/2007 - Conference secretary for the 9th Annual Meeting of the Gesellschaft für Biologische Systematik (GfBS) (20.-23. Feb 2007 NHM), Natural History Museum Vienna

since 01.03.2007 - Curator of the Collection Arachnoidea, Natural History Museum Vienna, 3. Zoology (Invertebrates)

11/2007 - 11/2013 - Secretary of the Austrian Society of Tropical Medicine, Parasitology and Migration Medicine (ASTPM)
since 01.02.2020 - Interim Head of the 3. Zoology
since 01.04.2020 - Head of the 3. Zoology
see:
Christoph Hörweg on ResearchGate

2018
Marinkovic SM, Chetverikov PE, Hörweg C & Petanovic RU 2018 Supplementary description of three species from the subfamily Cecidophyinae (Eriophyoidea: Eriophyidae) from the Nalepa collection. Systematic and Applied Acarology 23(5): 838-859.
doi: 10.11158/saa.23.5.5
 
2017
Novák J & Hörweg C 2017 Redescriptions of three species of the genus Neobisium from the Balkans and the Carpathians (Arachnida: Pseudoscorpiones). Acta Zoologica Hungarica 63(3): 277-292.
doi: 10.17109/AZH.63.3.277.2017
 
Husch C, Sattmann H, Hörweg C, Ursprung J & Walochnik J 2017 Genetic homogeneity of Fascioloides magna in Austria. Veterinary Parasitology 243: 75-78.
doi:10.1016/j.vetpar.2017.06.007
 
Sattmann H & Hörweg C 2017 Ein Wurm auf Wanderschaft. Info-Blatt Burgenländischer Landesjagdverband 1/2017: 12-14.

2016
Hörweg C & Mrkvicka AC 2016 Bemerkenswerte Funde der gefährdeten Springspinne Pellenes nigrociliatus (Simon, 1875) an der Thermenlinie in Niederösterreich mit einer Übersicht der bisher veröffentlichten Daten aus Ostösterreich (Araneae: Salticidae). Biodiversität und Naturschutz in Ostösterreich – BCBEA 2/2: 143-147.
 
Zulka KP, Tadler A, Hörweg C & Milasowszky N 2016 Nosferatu in Wien – Zoropsis spinimana (Dufour, 1820) in drei Wiener Gemeindebezirken nachgewiesen (Arachnida: Araneae: Zoropsidae). Beiträge zur Entomofaunistik 17: 158-163.
 
Hörweg C 2016 Die Konusspinne Cyclosa conica (Araneae, Araneidae) ist die Europäische Spinne des Jahres 2016. Arachnologische Mitteilungen 52: 78-80. doi: 10.5431/aramit5210
 
Chetverikov P, Hörweg C, Kozlov M & Amrine J 2016 Reconditioning of the Nalepa collection of eriophyoid mites (Acariformes, Eriophyoidea). Systematic and Applied Acarology 21(5): 583-595.
doi: 10.11158/saa.21.5.3

Hörweg C. 2016 Die Konusspinne (Cyclosa conica) – Spinne des Jahres 2016. Entomologica Austriaca 23: 261-262.
Hörweg C 2016 (Persönliche) Erinnerungen an Peter "Otto" Horak (29.5.1953 – 13.4.2015). Entomologica Austriaca 23: 267-270.
2015
Seiter, M., Wolff, J. & Hörweg, C. (2015): A new species of the South East Asian genus Sarax Simon, 1892 (Arachnida: Amblypygi: Charinidae) and synonymization of Sarax mediterraneus Delle Cave, 1986. – Zootaxa 4012(3): 542-552.

Hörweg, C. (2015): Die Vierfleck-Zartspinne, Anyphaena accentuata (Araneae: Anyphaenidae), Spinne des Jahres 2015. – Arachne 20(4): 29-31.
 
Hörweg, C. (2015): Die Vierfleck-Zartspinne, Anyphaena accentuata (Araneae: Anyphaenidae), Europäische Spinne des Jahres 2015. – Arachnologische Mitteilungen 50: 61-64. http://dx.doi.org/10.5431/aramit5009

2014
Hörweg, C. (2014): Die Pseudoskorpione ausgewählter Waldflächen im Biosphärenpark Wienerwald. – Wissenschaftliche Mitteilungen des Niederösterreichischen Landesmuseums 25: 297-310.
 
Hörweg, C. (2014): Die Gemeine Baldachinspinne, Linyphia triangularis (Araneae: Linyphiidae), Europäische Spinne des Jahres 2014. – Arachnologische Mitteilungen 47: 14-18. http://dx.doi.org/10.5431/aramit4703
 
Hörweg, C. (2014): Die Gemeine Baldachinspinne, Linyphia triangularis (Araneae: Linyphiidae), Spinne des Jahres 2014. – Arachne 19(4): 16-19.
 
Sattmann, H., Hörweg, C., Gaub, L., Feix, A.S., Haider, M., Walochnik, J., Rabitsch, W. & Prosl, H. (2014): Wherefrom and whereabouts of an alien: the American liver fluke Fascioloides magna in Austria: an overview. – Wiener klinische Wochenschrift 126/1: 23-31. http://dx.doi.org/10.1007/s00508-014-0499-3
 
Sattmann, H., Hörweg, C. & Stagl, V. (2014): Johann Gottfried Bremser (1767–1827) und die Kuhpockenimpfung. – Wiener klinische Wochenschrift 126/1: 3-10. http://dx.doi.org/10.1007/s00508-013-0445-9

Publications from 2010 to 2013 at:
http://publications.nhm-wien.ac.at/previous-years/spip.php?page=biblio&zcollection=3rd+Zoology&tri=annee&auteur[]=H%C3%B6rweg%2C+Christoph&annee=&recherche=&type_ref=&tag=&details=&csl=changed_annalen-des-naturhistorischen-museums-wien
Pseudoscorpions
Pseudoscorpions in (Eastern-) Austria - systematics, biology and biogeography
Spiders
Occurrence of Cheiracanthium-species in Austria

Distribution of the Wasp Spider in (Eastern-) Austria

Documentation of Spider Bites in Austria

Parasites (nematodes, mites) of Theraphosidae
Mites/Ticks
Ticks of tortoises - Investigation of material of the Herpetological Collection (together with R. Gemel, 1. zoology / herpetology NHM

Collection of ticks from selected locations in Eastern Austria (together with G. Duscher, University of Veterinary Medicine Vienna)
Parasites
Investigations on the epidemiology of the American Liver Fluke Fascioloides magna in the Danube Backwater Area east of Vienna (together with H. Sattmann, 3. zoology NHM)

Parasitological investigations of palaeofaeces from prehistoric Hallstatt (together with H. Sattmann, 3. zoology NHM and H. Reschreiter, Prehistory NHM)

Parasitological investigations of water snails in connection with the occurrence of cases of cercarial dermatitis (together with H. Sattmann, 3. zoology NHM)